5 Simple Slow-Cooker Tips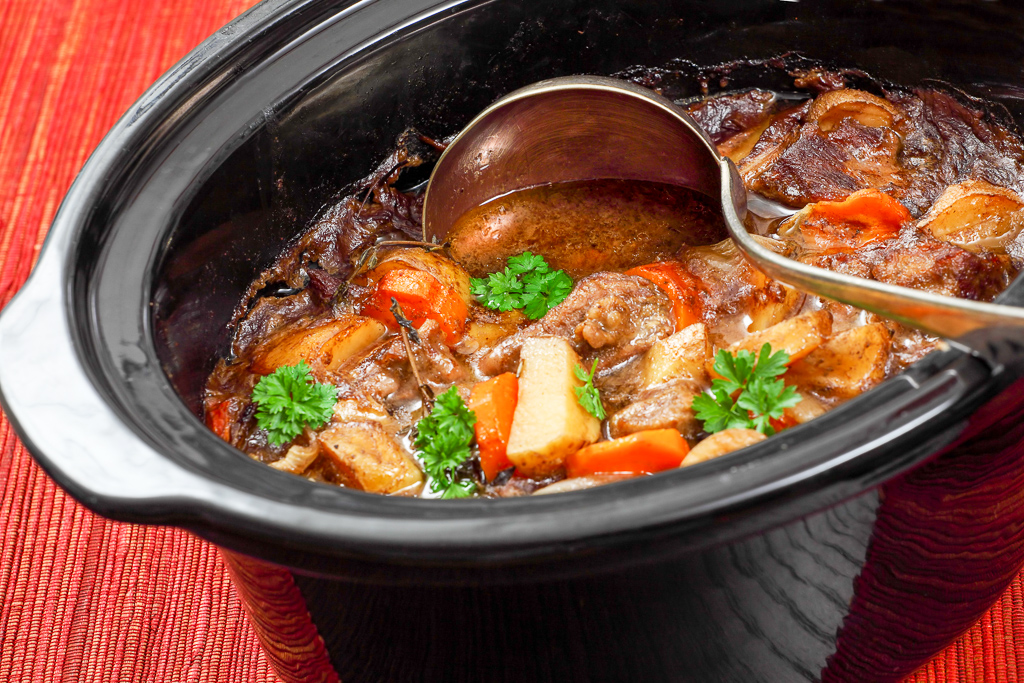 Using a Crockpot® or slow cooker can create delicious slow-cooked meals while saving your time and money.
Using a crock pot can create delicious slow-cooked meals while spending less time and money.
Plan ahead
Decide in advance what meal you will be preparing for tomorrow's dinner. Prepping and refrigerating the vegetables, making sure meat is thawed, and measuring out the other ingredients will save you time. Before heading out for the day, all you have to do is throw everything in the crock pot and turn it on – your work is done.
Planning ahead can even cut down on your grocery bills. If you have several crock pot dinners in mind, or your family's favorite meals, stock up on the meats and vegetables that you know you will use that week. Better still, take advantage of any sales on chicken breasts, beef, or pork roasts and freeze them. At any time during the month, you can pull the meat from the freezer and let thaw in the refrigerator for two days before adding it to the crock pot.
Build SEAR-ious flavor
For slow-cooked meat dishes, browning meat over medium high heat in a large pan with olive oil will make for an even more delicious meal. You can also lightly dredge the meat in flour before browning. With or without the flour, deglazing the pan with red wine or balsamic vinegar and pouring the drippings into the crock pot along with the meat and vegetables adds massive amounts of flavour. For more information about this wonderful flavor enhancement check out SEAR-ious flavor to learn more.
Size matters
You want to be sure that the size of the crock pot matches the amount of food that you will be slow-cooking. If you add too many ingredients to a small crock pot, it will be too hard for it to come up to the right temperature.  Large roasts need to slow-cooked in larger crock pots so that they will be cooked through, while smaller sized meals can easily burn if you do not add enough liquid. 
Temperature + Time

If you are slow-cooking a stew, be sure to first brown the meat, add vegetables, and bring the broth or liquid of choice to a boil before adding it to the crock pot. The same holds true for any soup dish. Adding boiling liquid will help the slow cooker heat up faster, making sure that you get your food out of the temperature danger zone more quickly. 
Many crock pots have multiple settings for high or low heat and the number of hours (usually 4 or 8) that you want it to cook. Large roasts and stews should be cooked at low heat for 8 hours. Smaller meals, such chunks of cut up chicken breast with barbecue sauce or curry and coconut milk, can be cooked through using high heat for 4 hours. If you are using a crock pot with this higher heat option, be sure to check that the meat has been thoroughly cooked before serving.
Keep the lid on!
As tempting as it may be, don't take the lid off to check on the meal. If you are looking, you are not cooking. Every time you remove the lid from your slow cooker, heat escapes and slows down the whole process. Remind yourself it is worth the wait, and the less you peek, the sooner it will be ready to enjoy!