Cooking Salmon Temperature: When is salmon done?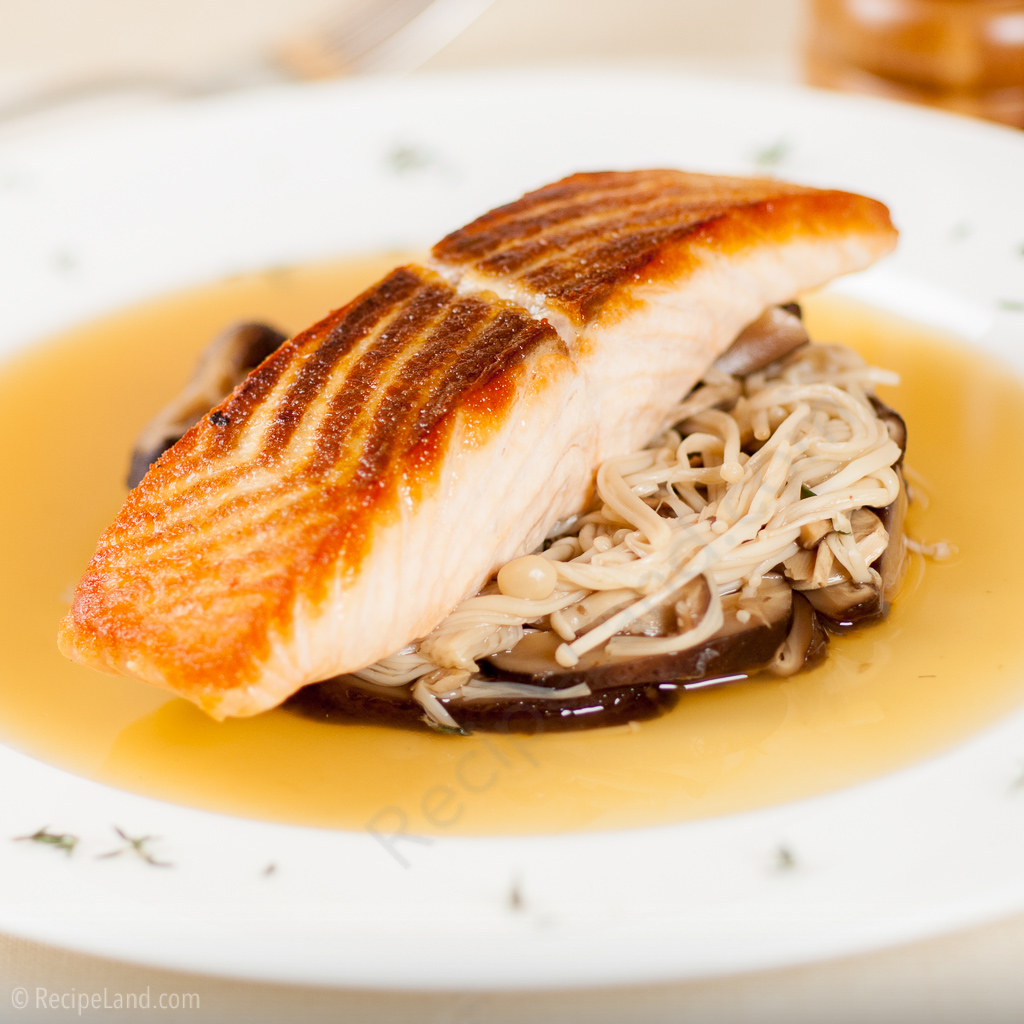 What is the perfect internal temperature to cook salmon to? How to cook salmon and how to tell when salmon is done.
There are many ways to enjoy salmon, but how do you know when it is fully cooked?  Some like it raw, as in sushi. At the same time, others prefer their fish to be cooked completely through.  To obtain a moist, silky, translucent result, on the other hand, read on!
To determine the perfect cooking temperature for salmon, consider the fish's thickness and your guests' preferences. Which option would you prefer: a warm, firm, flaky, or a silky, moist one with a translucent center?
USDA-recommended salmon cooking temperature
The US Department of Agriculture recommends cooking fish to an internal temperature of 145 °F (62.8 °C)1. While following this method ensures that the fish is fully cooked, there is a possibility that it may end up as dry as the arid Sahara Desert.
Many find that at that temperature, the salmon will be overdone. The internal temperature continues to rise once you remove the salmon from the heat, resulting risking the dreaded over-cooked fish.
Perfect salmon temperature
To achieve perfectly juicy and tender salmon, America's Test Kitchen recommends cooking it to approximately 125 °F (52 °C). Cooking to this internal temperature will produce an incredibly delectable texture with a gentle flakiness and a glossy, translucent appearance.
Here at the RecipeLand.com kitchens, we prefer to cook our salmon to just 130 °F (55 °C), and the results are just about perfect after a 5-minute rest.
The center should still be slightly translucent and moist, but the salmon will easily flake along the muscle fibers.
What is the temperature of cooked salmon?
  Use the salmon temperature guide below according to preferences.
Fully Cooked Through: As noted above, the USDA says the thickest portion of your salmon filet, steak or side should attain an internal temperature of 145 °F (63°C). If one follows these guidelines, your fish will no doubt be fully cooked, with no raw or silky interior. That is presumably appropriate if you're feeding a crowd with different food preferences. However, make certain to avoid increasing the internal temperature beyond this level. If you do, the salmon will become tough and dry, more like the awful salmon you get on airplanes than the restaurant-quality salmon you can cook at home.
Medium-Rare (Farmed): If you prefer medium-rare salmon and prepare farmed filets (most Atlantic salmon sold in America), cook until the middle is 125–135°F (52-57 °C).
Medium Rare (Wild): If you're cooking wild salmon, medium-rare is between 120 and 130°F (50-54°C). Why the difference between wild and farmed salmon? Wild salmon get more exercise, resulting in more connective tissue. This additional connective tissue means that muscle fibers may end up dry or tough if overcooked. Furthermore, some types of wild salmon are leaner than farmed salmon. This means they have less fat, which makes the end product more likely to toughen at higher temperatures—cooking wild salmon to medium-rare results in a more delicate and tender texture, bringing out the natural subtle and unique fresh flavors. 
Additionally, cooking wild salmon to medium-rare allows for a more delicate and tender texture, enhancing the natural flavors of the fish. It is essential to monitor the temperature closely to avoid overcooking and preserve the unique qualities of wild salmon. 
How long to grill salmon?
Grilling: Grilling salmon is a popular method that imparts a smoky flavor to the fish. Preheat the grill to medium-high heat and lightly oil the grates. Place the salmon fillets or steaks on the grill (skin-side down if cooking with the skin), and cook for about 4-6 minutes per side, depending on the thickness of the fish. The internal temperature should reach the desired level according to your preference.
How long to bake salmon?
Baking salmon is a simple and convenient method. Preheat your oven to 375 °F (190 °C). Arrange your salmon on a baking sheet lined with parchment paper or aluminum foil. Bake for about 12-15 minutes or until the salmon is cooked to your desired temperature.
How long to broil salmon?
Broiling salmon is a quick method that results in a slightly charred exterior and a moist interior. Preheat the broiler and place the salmon on a broiler pan or a baking sheet that you have lined with aluminum foil. Broil for about 4-6 minutes per side, depending on the thickness of the fish.
How long to pan-sear salmon?
Pan-searing salmon creates a crispy skin and a tender interior. Heat a skillet over medium-high heat and add a small amount of oil. Place the salmon, skin-side down, in the skillet and cook for about 4-5 minutes. Turn over the salmon and cook for an additional 2-3 minutes or until the desired internal temperature is reached.
An instant-read thermometer is one of the most essential tools you can have in your kitchen when cooking salmon (or any meat). While cooking salmon to a specific temperature is important, it can be challenging to tell when the fish has reached the desired temperature without a thermometer. Investing in an instant-read thermometer can help you achieve perfectly cooked salmon every time. With this tool, you can easily monitor the internal temperature, ensuring that your salmon is cooked to your desired level of doneness. Plus, it can be used for many other types of food, making it a valuable addition to any home cook's toolkit.
Albumin
Have you ever noticed that white, sometimes foamy, substance coagulates on the surface of your salmon? It's called albumin.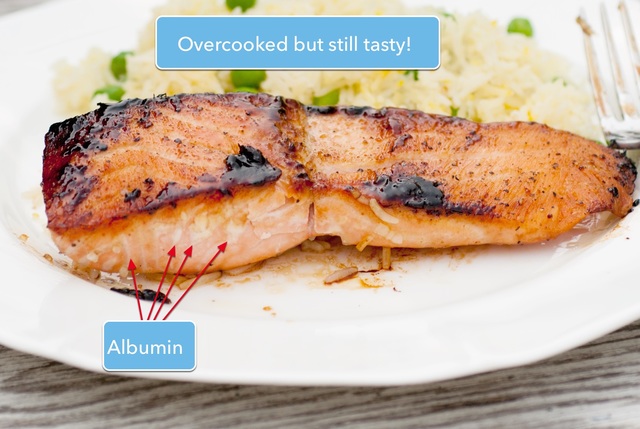 Albumin is a protein that is pushed out of the muscle fibers of the fish as it cooks. It can collect on the edges and surface of the salmon. Overcooked salmon, especially when poached and canned salmon are particularly prone to this effect. However, even perfectly cooked salmon can form some of albumin on the surface.
The best way to avoid the white stuff is to cook your salmon to the perfect internal temperature.
Some tips to curtail the formation:
bring the fish to room temperature before cooking
glazing the salmon helps keep albumin formation in check
cook just until the center of the salmon is translucent and no more