Chives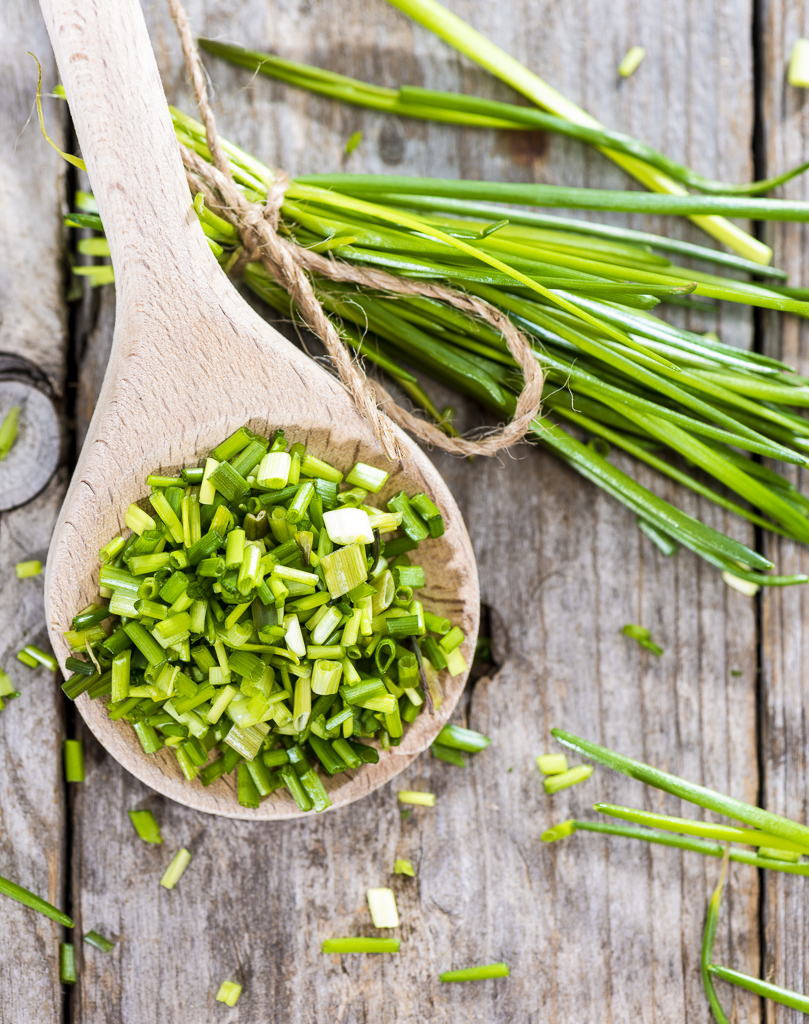 Chives belong to the same family as onions, leeks, and garlic. The Latin name of this species means 'Rush-Leek.' Read all about Chives Laurie's Words on Herbs Article.
Chives belong to the same family as onions, leeks, and garlic. The Latin name of this species means 'Rush-Leek.'
Although they are native to Asia and Eastern Europe, by the sixteenth century chives were common plants in herb gardens throughout Europe.
History
This species now occupies an extensive area in the northern hemisphere. It is found all over Europe from Corsica and Greece to the south of Sweden, in Siberia as far as Kamschatka and also in North America. The variety found in the Alps is the nearest to the cultivated form.
The gypsies of ancient times used chives in fortune telling. It was believed that you should hang bunches of dried chives around your house to ward off disease. Ancient Romans believed chives could relieve the pain from sunburn or a sore throat. Marco Polo is credited with bringing chives to Europe from China.
The ancient belief claiming that chives "send up hurtful vapors to the brain" was mere rumor and never had any foundation to it. Though it's strong scent can certainly effect your head for a moment.
Growing Chives & Varieties
Appearance - These hearty growers form tubular leaves up to 24 inches high. In late spring they have lavender, ball-shaped heads of flowers. Both the flowers and the foliage are edible.
Growing Know-How - Give chives full sun and well-drained soil of average fertility. Space plants about 18 inches apart. When the flowers begin to fade, cut them all off at the base of the plant if you want to prevent them from self-sowing.
Some flowers may appear sporadically through the summer, so keep your eye out for them - they make excellent cut flowers. In late summer, you can dig up a plant or two and put them in large pots to keep in a cool windowsill or light garden for winter harvests. Leave the pots outdoors until after a few frosts for best indoor leaf production.
Propagation - Chives are easy to start from seed. Start seeds indoors 6 weeks before the last spring frost. Set them out when the weather is mild. Or transplant a self-sown seedling that's emerged in your garden, or divide a mature plant. Renew older plants by dividing every 5 years or so.
Cultivars - 'Ruby Gem' has gray foliage and red flowers.
Potential Problems - Plant in well-drained soil to prevent root rot.
Harvesting and Using - When you harvest the leaves or flowers, cut them off at the base to keep it looking tidy.
Garlic chives - An herb similar to Chives, but with a decidedly garlicky nuance, both in aroma and flavor. Garlic chive leaves have long, thin, flat stems, whereas the stalks with flowers are round and more closely resemble regular chives.
Open flowers, though beautiful, are a signal that the chives were picked from a more mature plant and will not be as tender as those with unopened buds. They may be snipped with scissors to the desired length and used in both fresh and cooked dishes. Garlic chives are also called Chinese chives and ku chai.
Medicinal
A good source of calcium, chives are believed to strengthen nails and teeth when consumed. And there is some evidence that chives can improve digestion and reduce high blood pressure. The oil has antibacterial properties.
Cooking
Chives are usually used fresh (though you can use dried chives) with baked potatoes, cream soups, and egg dishes. The leaves add tasty flavors to herbal butters. They also can be used to spruce up salads, cream and cottage cheeses and tofu.
You can chop up extra leaves by hand or puree them with a little oil to make a pesto to freeze.
Use the flowers to garnish salads or soups and to make lavender-colored vinegars. Be sure to wash the flowers out well, though, because they may harbour insects.
Chives mix well together with chervil, parsley, and tarragon to make a savoury yet mild blend of herbs you can then add to your meat substitute marinades, soups, steamed vegetables, cream sauces and omelettes. Add a 1/4 cup chopped chives to your favorite biscuit (scone) recipe for an extra lift.
As with most herbs, add chives at the last moment to hot foods, since heat lessens their flavor.